Come on, Know the 10 Advantages and Disadvantages of Huawei Mate Xs!

Foldable mobile device technology is heading in a new direction. The technology is allowing mobile devices to be folded through the screen. This is then presented by devices such as the Samsung Galaxy Fold and Samsung Galaxy Z Flip.
But, it's not only Samsung that has a folding device. Huawei also has it through the presence of Huawei Mate X. This device is good and innovative but still not mature enough. This is what later made Huawei present its successor, namely Huawei Mate Xs.
What is this Huawei Mate Xs like? Is this device quite interesting? To find out, let's look at the advantages and disadvantages of Huawei Mate Xs below.
Huawei Mate Xs specifications
Release: March, 2020
Screen: Foldable OLED 8 inches 2200 x 2480 pixels,
Cover Screen: Foldable AMOLED 6.6 inches 1148 x 2480 pixels,
Chipset: HiSilicon Kirin 990 5G (7 nm +)
GPU: Mali-G76 MP16
RAM: 8 GB
Internal Memory: 512 GB
External Memory: NM SD Card, up to 256GB
Camera: 40 MP + 8 MP + 16 MP + TOF 3D
Battery: Non-removable Li-Po 4500 mAh battery
Full specifications …
The advantages of Huawei Mate Xs
It turns out that there are many advantages offered by Huawei Mate Xs that make this device an attractive choice. What are the strengths? Check out the following points!
1

. Cool Foldable Cellphone Mechanism

Huawei Mate Xs brings a better folding system than the previous series. The folding system in Huawei Mate Xs allows both screen functions to work properly and provides the user experience that it should.

In addition, Huawei Mate Xs in a folded mode has a very thin thickness of 5.4 mm. Thin size like this is rarely found in mobile phones today that have an average thickness of 6 mm.

Because this thinness makes the experience of using Huawei Mate Xs more enjoyable. But of course when in folding mode and shaped cellphones in general, Huawei Mate Xs.

The folding mode of Huawei Mate Xs is by bending the left side of the screen so that the right side of the screen becomes an elongated screen like a cellphone. This also makes the back of the phone has its own screen.

This folding system has a very good mechanism and is widely praised by various sites such as Digitaltrends or Androidpit. While the Tomsguide site says that the Mobile Phone folding mechanism is strengthened compared to the previous version.

In fact, the AndroidAuthority site praises the design of this phone which they say is quite innovative. According to them, Huawei Mate Xs actually has a design similar to the previous generation but with a few changes so that the durability, strength, and functionality of this mobile phone increases.
2. Good P-OLED screen
Huawei Mate Xs in widescreen mode aka tablet mode comes with an 8 inch screen with a resolution of 2200 x 2480 pixels. This screen uses an AMOLED panel and has a density of 414 ppi. This large screen allows Huawei Mate Xs to display wide visuals.
While in folded mode, the screen of this device comes with dimensions of 6.6 inches with a resolution of 1148 x 2480 pixels. The number of pixels is quite uncommon but this is certainly not a big problem because the resolution offered remains high.
Both screens certainly present an AMOLED panel screen because the screen is only one piece intact, only folded. Do not forget too, when folded, the back is also a screen with dimensions of 6.38 inch resolution of 2,480 x 892 pixels. It's just that when folded, this back screen functions when taking selfies or taking photos.
The screen on this device is able to provide interesting visuals. The Trustedreviews site even praised the Huawei Mate Xs screen by calling the 8 inch display screen a sharp and colorful display.
The AndroidAuthority site also states that the OLED screen on this device is quite good. According to him, the screen on the Huawei Mate Xs is quite striking and quite bright. The contrast and dynamic range is also quite great. In addition, the screen also has a relatively good legibility.
3. Outstanding Leica Camera
In addition to an extraordinary screen, Huawei Mate Xs is also equipped with a camera that is quite good. The camera on this cellphone comes with a four camera configuration. The four cameras are 40 MP main camera, 8 MP telephoto camera, TOF 3D camera and 16 MP ultrawide camera,
There is no front camera on this cellphone, for selfies, you can use the main camera. Just enough to use the rear screen mode. This is because the position of the camera is on the right side of the device. When in tablet mode, the camera is on the right side at the back.
It is interesting, when recording video or taking photos, both those taking pictures and those who are shot can see in advance on the screen. Remember, this cellphone in folding mode has two screens on the front and back.
Do not miss, this Mobile Phone screen is equipped with a Leica-certified camera. That is, the quality of the camera from this cell phone is topnotch. To prove it, let's look at some examples of camera catches from Huawei Mate Xs below.
It's seen that the quality of the camera catches from Huawei Mate Xs is quite good. The photo quality, both in the afternoon and in low light conditions, is quite good.
The Digitaltrends website praises the quality of the Huawei Mate Xs catch. The site considers that the photos from this device has a balance and tone good color. The photos also show details that are quite good. Moreover, the camera application on this cellphone has a Leica filter that can give good results.
Digitaltrends also praised the quality of photos in portrait mode. According to them the results were extraordinary. Photos using Super Macro mode are also quite good. While telephoto lenses, according to Digitaltrends, can produce good photos with 3x and 5z zoom modes. While the 50x digital zoom mode the results are not too good because the image is visible pixelated.
4. Huawei SuperCharge 55W
Huawei Mate Xs comes with a 4,500 mAh battery capacity. Inside, there are two batteries that have a total capacity of 4,500 mAh. The battery of this device itself can be charged very quickly.
How come? Because Huawei Mate Xs has been equipped with 55W fast charger charging technology. This charger does not need to be purchased separately because it is already in the sales box.
The Digitaltrends website is testing the charging speed of this phone. And apparently, this phone can be fully charged in just 55 minutes. While in the first 30 minutes, the battery can be charged 80%. Really fast indeed.
Huawei itself claims that the Huawei Mate Xs battery can be filled 85% with a 55W charger in just 35 minutes. Although it's a bit off the mark by Digitaltrends, the results aren't too far off and the results are that Huawei Mate Xs really does support super-fast charging.
5. Strong Kirin 990 and 5G Support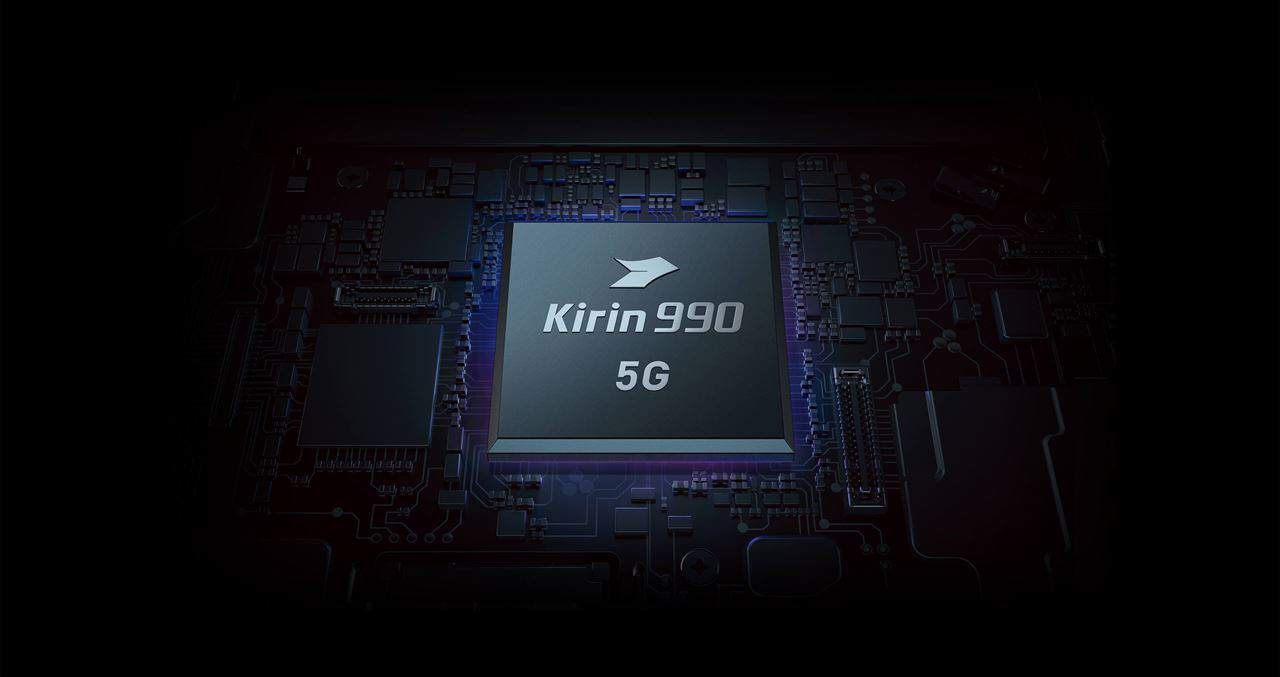 Huawei Mate Xs comes with the HiSilicon Kirin 990 5G chipset, a chipset built with a 7 nm + fabrication process. As the name implies, this chipset already supports 5G networks. It's just that specifically for India, Huawei Mate Xs can't run 5G alias locked up for compliance with regulations considering there are no specific regulations in India related to 5G.
This chipset consists of an octa core processor which is divided into three clusters. The cluster is 4 cores 1.95 GHz Cortex-A55 for power efficient performance, 2 cores 2.36 GHz Cortex-A76 for faster performance, and 2 cores 2.86 GHz Cortex-A76 for faster performance. While in graphics processing, embedded Mali Mali-G76 MP16
Then, how is the performance of the Huawei Mate Xs? To see the performance, let's look at synthetic benchmark data conducted by AndroidAuthority below.
In the Antutu 8 test, it appears that Huawei Mate Xs gets a high score, which is 470 thousand. While in 3D Mark testing, Huawei Mate Xs got an OpenGL Extreme ShotGL score of 5,766 and an Extreme Sling Shot of 5,499.
In Geekbench 4 testing, it appears that the single-core of Huawei Mate Xs is 3,882 and multi-core is 12,208. These scores indicate that the performance of Huawei Mate Xs is indeed in performance flagship. Its performance is quite close to Snapdragon 865.
In the usage test, Huawei Mate Xs run well. Supported with 8 GB of RAM, Huawei Mate Xs is able to do the job properly. Including when invited to play the game for a few hours. According to AndroidAuthority, Huawei Mate Xs can run the Asphalt 9 game smoothly for quite a long time without it happening drop frame.
This clearly shows that Huawei Mate Xs is one of the devices that has high performance. It is classified as high, of course, and can compete with other devices equipped with top-class chipsets.
Lack of Huawei Mate Xs
There are four disadvantages found in this Huawei Mate Xs. What are those? Listen directly to the following discussion!
1. GMS issues
The dilemma of Huawei on Android devices is that it hasn't yet enabled Huawei to re-run Google Mobile Services. Huawei's problems with the American government have an effect on Huawei's prohibition on running Google services on its Android products, including Huawei Mate Xs.
This is clearly very disappointing, considering that many people are generally difficult if they do not use Google Mobile Service. Huawei actually has a similar service called Huawei Mobile Service. It's just that the service isn't very mature yet. One drawback of course.
2. Poor Audio Quality
Huawei Mate Xs only has one speaker on the side. This speaker turned out to have good sound quality. At least, according to Digitaltrends. According to Digitaltrends, the sound quality of the Huawei Mate Xs is quite terrible. The sound quality is worse when compared to the Samsung Galaxy Fold.
As a high-end device, of course the audio sector should be better. Moreover, Huawei Mate Xs are not sold at cheap prices.
3. Doubtful Screen Durability
The folding mobile innovation is actually a good innovation. It's just that, like Samsung Galaxy Fold and Samsung Galaxy Z Flip, this folding screen technology is still doubtful about its durability. Includes Huawei Mate X and Huawei Mate Xs devices.
Sites like Digitaltrends and AndroidAuthority that test these devices directly feel the durability problem. The Digitaltrends site doubts its durability is unknown for how long. While the AndroidAuthority website says that the folding design of the Huawei Mate Xs is potentially fragile.
4. Does not Support Wireless Charging
As a high-end device, of course Huawei Mate Xs should have complete features. For example support for Wireless Charging. Unfortunately, Huawei Mate Xs does not have this one feature.
5. The price is too expensive
As an innovative product, Huawei Mate Xs certainly needs to be appreciated. Unfortunately its presence on the market, especially in the Indian market, will make a bag gape. Understandably, the price of Huawei Mate Xs can reach almost Rp. 40 million.
Actually, the price is not surprising. Because when Huawei Mate X was present, the price was also introduced in the range of Rp. 30 million. Obviously the price is quite expensive for something that is not yet certain of its durability.
Conclusion
Huawei Mate Xs is an interesting innovative device. The folding system of this device is very good. Moreover, this device comes with various other advantages such as performance, battery life, and a screen that has a good display.
Unfortunately, Huawei Mate Xs has a similar problem with the latest folding device, which is a question of doubtful durability. In addition, this device also does not support Google services, which of course makes this device feel less attractive. Moreover, the price is very expensive for most people, including people in India.