How to Move Photos on HP to Google Drive

TechIndia – Google Drive is one of the most popular cloud storage used by people from all over the world because it is integrated everywhere, including Android smartphones.
If you register your Gmail account, you will automatically get a capacity of 15 GB for free for a combination of Gmail and Google Drive storage.
Not only for storing emails, you can use Google Drive to store many things such as photos and other documents. Besides being more secure, you can also access the photos from anywhere as long as you have internet access.
Then how do you use it so your photos can always be accessed? For that, you can see the tutorial how to move photos to Google Drive below.
How to Move Photos to Google Drive from a Smartphone
Open the Google Drive application that should be on your Android smartphone
If not, then you can download it first in the Google Play Store
Run the application and you will immediately be faced with a tab My Drive on the main page
On this tab, select the mark Add or add colorful at the bottom right of the application
Next, press the button Upload to be directed to the page to add photos or files
You can select multiple photos or one by one to add to Google Drive
Wait until the upload process is complete
If so, then you will see the photos that you uploaded in the tab My Drive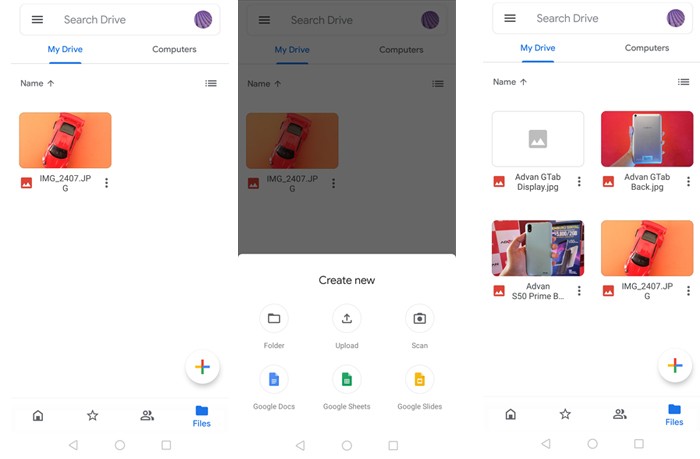 Not only from smartphones, you can also move the photos that you have on your laptop or PC to Google Drive services with steps that are no less easy.
Move from a PC or Laptop
Open browser applications (Firefox, Opera, Chrome, Microsoft Edge, and others)
Type it https://drive.google.com on Address Bar to access Google Drive
After entering the Google Drive main page, Login by using the Google account that you have
Next you will be presented with a menu page with a small column on the left and a storage area with a large column in the middle
Open Windows Explorer and find the photo to be moved
After selecting photos, then do it Drag and Drop by pulling it with the cursor on Google Drive
Wait until all photos are uploaded to Google Drive
To make the photos that are moved to Google Drive take place properly, make sure the internet connection that you use is of good quality and stable. It is strongly recommended to use a Wi-Fi network with a fast and reliable connection.
Both methods of moving photos from to Google Drive are very easy, even from various types of devices. Of course all you need is a stable internet connection and Google Drive capacity that is still relieved to do storage.
This article is copyright © TechIndia