10 Advantages and Disadvantages of Samsung Galaxy Z Flip

The advantages of Samsung Galaxy Z Flip
Samsung Galaxy Z Flip has several advantages. What are the advantages offered by this phone? Immediately, see the following advantages.
1. Fun Fold Design Concept
The Samsung Galaxy Z Flip offers a folding phone concept that is really interesting. Interesting because the folding phone with a flip model in its time was once loved by many people. And Samsung, bring it back with the concept of folding the screen from top to bottom.
This concept is actually not the first. Motorola did it first through the 2019 RAZR Motor. Samsung also has another folding phone called the Samsung Galaxy Fold. But the concept of this device is actually more like a folding tablet than a folding phone.
Galaxy Z Flip offers a folding concept that allows the device to be smaller so it's easy to fit into a pocket. This concept is quite fun so that not a few are impressed with the presence of the Samsung Galaxy Z Flip.
Samsung Galaxy Z Flip comes with dimensions of 167.3 x 73.6 x 7.2 mm. However, when the phone is in folding mode, the dimensions are 87.4 x 73.6 x 17.3 mm. With this dimension, the Galaxy Z Flip feels like a versatile and practical mini device. Moreover, the weight of this phone is relatively light because it has a weight of 183 grams.
2. Good Camera Quality
The Samsung Galaxy Z Flip doesn't just offer the concept of a punch, l fold. This phone is also equipped with a camera that is quite feasible. It's just that there are only two cameras on this phone. The first camera is a 12 MP main camera with f / 1.8 aperture. While the second camera is a 12 MP camera with f / 2.2 aperture.
So, what is the quality of the back camera of this phone? Let's look at some examples of the following Samsung Galaxy Z Flip back camera shots.
It appears that the camera catch from this phone is quite good. Androidcentral site states that the camera quality of the Galaxy Z Flip is good and almost like a cellphone flagship in general.
According to them, the photo (and video) quality of the Galaxy Z Flip tends to be similar to the Samsung Galaxy S10 which is known as one of the smartphones with good camera quality.
In good light conditions, the Galaxy Z Flip can capture images with rich detail and sharpness. However, the quality of the camera is less reliable for the conditions low-light. However, the night mode is classified as helpful in improving photo quality in low light conditions.
Jessica Dolcourt from CNET wrote her opinion about the Galaxy Z Flip camera. Based on her experience using the Galaxy Z Flip, Jessica feels that the quality of the photo camera of this phone is quite good. Especially when compared with other similar folding phones, namely Motor Razr.
Still according to Jessica, the presence of two cameras on the back makes the photos on this phone produce better photos than its competitors. Especially in low light conditions. Not only the rear camera, this front camera that offers a 10 MP sensor is good for selfies and video calls.
3. Two Screens are Okea
The Samsung Galaxy Z Flip doesn't just present a folding concept but also offers a two-screen concept. The first screen, the main screen, comes with a Dynamic AMOLED panel with dimensions of 6.7 inches. This screen comes offering 1080 x 2636 pixels and already supports HDR10 +.
I don't think it's necessary to talk about the quality of Samsung's well-known AMOLED screen. The focus will be discussed is about the concept of the screen on this phone. Because it carries the concept of folding, obviously Samsung needs to think of a folding concept that will affect the screen.
For this reason, the screen on this phone uses a thin glass that can be flexible. The glass itself is relatively thin and claimed to be scratch resistant. Although for this one matter is debatable. The reason is, Zack from the JerryRigEverything Youtube channel has tested the durability of the screen as shown in the following video.
Apart from that, the concept of folding screens on mobile phones is certainly interesting. Moreover hinge (hinge) on this phone is quite good. As Androidcentral said, the Galaxy Z Flip is the first folding phone but already offers a coherent design, screen and hinge concept and toughtfull.
Back to the matter of the screen. Previously, it was mentioned about the first screen. So, where is the second screen of this phone? To answer this, consider the following picture!
Seen in the picture above, there is a second screen which is located in the lower corner (in a folding state) next to the camera. This second screen is referred to as a display cover which has a dimension of 1.1 inches. This screen uses a Super AMOLED panel with a resolution of 112 x 300 pixels.
Of course this second screen concept is presented as a notification only. The point is that users do not have to bother opening the phone just to see notifications or to view time information. A concept that is certainly quite interesting.
4. Good Performance
Samsung Galaxy Z Flip is equipped with Snapdragon 855+ chipset. It seems, no need to explain the performance of the chipset. Because there are many high-end phones that use Snapdragon 855+ such as ROG Phone II, Black Shark 2 Pro, Realme X2 Pro, and others.
Mobile phones equipped with Snapdragon 855+ are known to have high performance. And that is from the results of benchmarks carried out by the AndroidAuthority website which can be seen in the following figure.
With the support of 8 GB of RAM and 256 GB of internal memory with UFS 3.0 type, it seems no need to explain again about the performance of this phone. As said Engadget site that says that the performance of this mobile phone runs smoothly and is very good to do multitasking with fashion split-screen.
5. Battery Life is Quite Okay
Samsung Galaxy Z Flip is equipped with a battery capacity of 3,300 mAh. The battery capacity is not too large for today's smart phones. However, it turns out that the battery life of this phone is quite good.
Please note in advance, if there are two batteries embedded in this phone. The capacity of 3,300 mAh is a total combination of the two batteries in this phone. And the presence of these two batteries makes battery life in this cell phone more efficient than one battery.
Based on the experience of using Androidcentral, the battery life of this phone can be up to 18 hours with normal use. With heavy usage, the battery lasts for only 13 hours.
Lack of Samsung Galaxy Z Flip
Samsung Galaxy Z Flip has several shortcomings. What are these shortcomings? Immediately, see the shortcomings of the following Samsung Galaxy Z Flip.
1. Potential Screen Brittle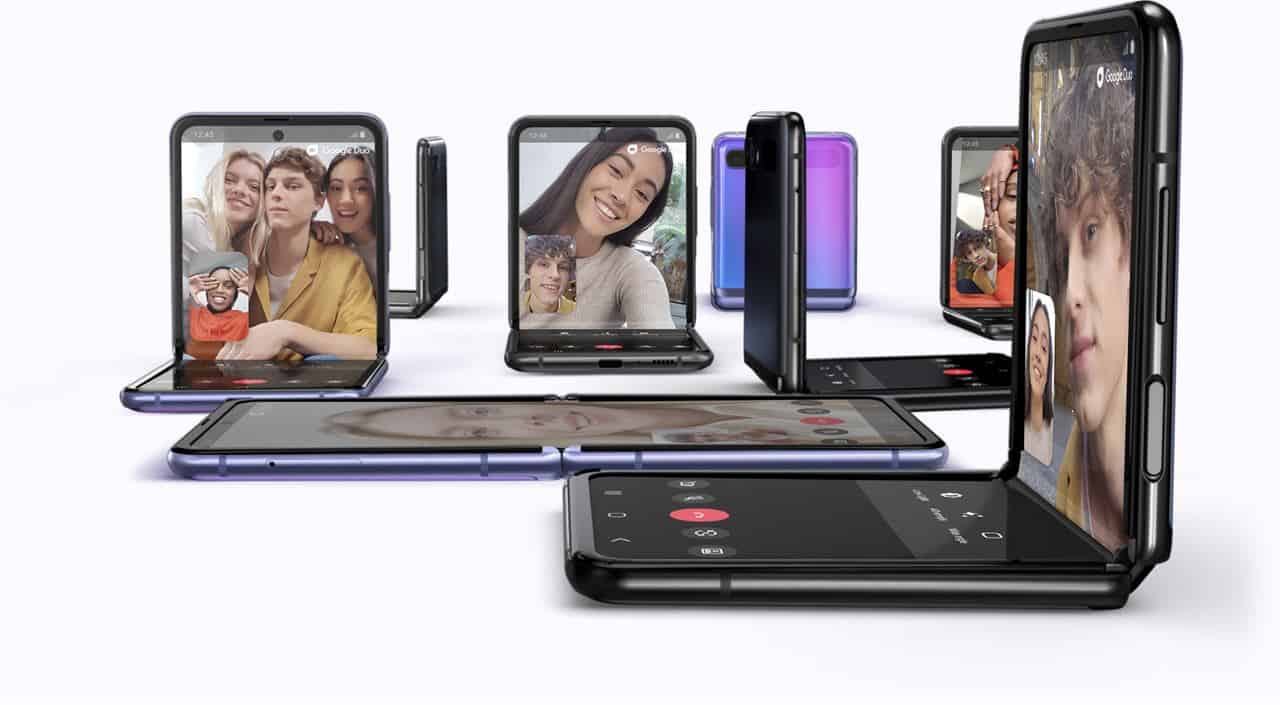 As previously stated, this Samsung Galaxy Z Flip is a mobile phone whose screen is vulnerable to scratches. This is not the only problem because according to Androidcentral, screen fragility problems can occur. This is evidenced by a video from JerryRigEverything that was discussed earlier.
2. Only Fast Charging 15W
Samsung Galaxy Z Flip is not equipped with super fast charging technology. This phone is only equipped with technology fast charging 15W, a technology that is also embedded in the Samsung Galaxy A51, a middle-class Samsung phone.
The duration of this cell phone charging can apparently reach 1 hour 45 minutes. AndroidAuthority is a story that tells if they charge the phone from 5% to full and the time obtained is 1 hour 45 minutes or almost 2 hours. Considering the small battery capacity of this cellphone, of course the duration is quite long.
3. Long-term Durability Problems
Another thing that could be a drawback of this phone is a matter of overall durability. Many suspect that this device will be fragile. Samsung itself claims that the durability of the Galaxy Z Flip can reach 5 years.
They say that the Galaxy Z Flip has undergone a series of production processes. One of them is trial opening and closing the screen up to 200 thousand times. Assuming, one day, the user opens the lid for 100 times, then the durability of this phone can reach 5 more years.
Even though there has been a claim of resilience, it's still durability hinge or overall body design is questionable. Because after all, there is no strong evidence this smartphone can last long enough.
4. The Second Screen That May Be Too Small
Samsung Galaxy Z Flip is indeed interesting because it offers a second screen that can function as a notification. However, perhaps this second screen is less attractive to some people because it is too small. Of course it would be better if the second screen could be bigger.
5. The price is quite expensive
Samsung Galaxy Z Flip is a phone that is not for everyone. Why? Because the price of this mobile phone is still expensive, which is around Rp. 21 million. This price is indeed still cheaper when compared to the Samsung Galaxy Fold which reached Rp30 million. But still, the price is still expensive for a cell phone that has not been proven to be resilient.
Conclusion
Samsung Galaxy Z Flip is definitely a special mobile phone. The folding concept is really interesting and makes the experience of using a smart phone more enjoyable. In addition, the specifications of this phone are also quite high, although not too maximal.
It's just clear that the Samsung Galaxy Z Flip can be said to be an innovative and attractive phone. The design is quite thought out and the embedded specifications are not too careless. But once again, this phone is expensive, which is certainly not necessarily all people buy it. Interested in the Samsung Galaxy Z Flip?